Sale of archive equipment
To store your paper documents, as well as inventory items, we are ready to offer Kardex automated storage systems.
Kardex's industrial solutions presented by our company are a whole range of different automated warehouses - automated warehouse systems with electronic and computer control, intended for use in archives, production, assembly lines:
significant savings in storage space, due to the full use of the entire height of the room;
order in the organization of storage of documents and inventory in archival areas;
Improving the safety of storage, because all stored materials are protected both mechanically and programmatically.
Kardex Remstar product overview
Vertical carousel system KARDEX consists of a number of shelves, which, when pressed, are delivered by carrier chains, delivering the necessary inventory to the operator in a safe and convenient access window.
The principle "goods to man", used in these systems, has proved to be the most effective technique of automatic processing of goods and materials.
The KARDEX Lektriever® system is an automated vertical carousel with computer control. The compactly designed KARDEX Lektriever® system requires only a few square meters of floor space and the entire available height of the room.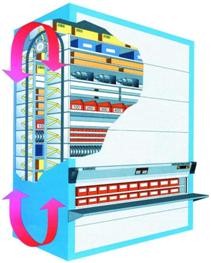 The combined use of a modern control unit-controller and software provides a significant increase in accuracy and a reduction in the processing time of inventory.
KARDEX Lektriever®
Optimizes processing and storage processes and accelerates the selection of inventory
The height is adjusted to the existing height of the room, the pitch of the module is 20 mm high.
The system is operated from the operating panel; it is ergonomically located in the operator's work area. Soft adjustment of the stop point, optimized sampling routes and high accuracy.
Security
The operator's security system - a light curtain on the upper and lower contours of the access window - provides maximum protection for working personnel. When the safety loop is broken, all operations stop, which completely prevents the possibility of injury, and also protects the inventory from damage.
The key advantages of using KARDEX automated equipment are basically the same for KARDEX Megamat® and KARDEX Lektriever® systems.
The most meaningful of them:
Saving area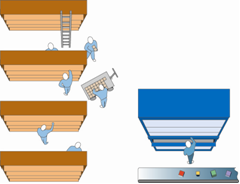 Solutions from KARDEX allow you to store all available space from floor to ceiling. KARDEX Megamat® and KARDEX Lektriever® systems occupy no more than 20% of the warehouse space used for standard storage solutions.
Full control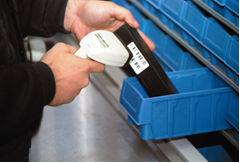 Solutions from KARDEX will allow you to establish absolutely complete control over the warehouse processes. You will always be aware of the entire movement of inventory. All the principles of write-off are supported: FIFO, LIFO, partion accounting. You can reduce your stock and exclude over-sorting.